Senior Dating Tips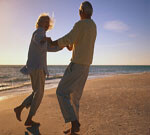 Advice for Success On Over 60 Dating Sites
With more senior citizens involve in online dating, we can see a lot more niche dating sites that designed for senior singles. Many people in their 50's don't consider themselves as seniors yet, thus there are certain over 60 dating sites that focus on singles over the age of 60 and above. This kind of niche dating site gets really popular these couple of years. But as far as we can see, not everyone can take full advantage of such over 60 dating site to find themselves perfect matches. Here are some advice for members who are using or planning to use such a dating site to get more chances.
1. Be Honest And Be Yourself
It is important that you be honest in your profile and during your communication with other members. Many members tend to lie about their ages or their income, this may temporarily get you a date but this kind of relationship won't work out finally. Remember that no one likes to be cheated. Nearly all people would appreciate an honest partner and mention this in their profile. Unlike being on a general dating site, members who join an over 60 dating site to find people in their own age group, so you don't have to bother to lie about your age. But this is not to say that you have to tell others anything about yourself in your profile or during communication. Some personal information should never be displayed in your profile or given out on your first date. Share those personal information wisely and gradually when you know someone better enough.
2. Be Wise And Safe
As we all know that scammer is an issue for all online dating. But this is not something that matters much if we can learn some tips to spot out a scammer on a dating site. Just as mentioned in the first tip, you can not reveal your personal information like phone number, detailed location in your profile. And never send out money to someone you meet online. If someone asks for your help with money after you have communicated for a while, that would be a big red flag. Don't ever disclose your bank account and any other important account to anyone as well. You may learn a lot by reading our other article about tips for avoiding online dating scam.
3. Don't Limit Yourself By Age Or Location
Nowadays, many seniors are young at heart and appearance. You may think and look much younger than their actually age. You can choose a wider age range when you do a search on site. Also, some members are willing to relocate once they find that special one. Why not giving yourself more chance to know someone nice rather than limiting your matches within your local area?
4. Give A Little Patience
Love always comes unexpectedly. No one knows when that special one would come to you. If you are on the dating site, don't give up simply if you don't find someone interested in by just a few searches. There are new members joining these sites every single day. You may check back often and take the initiative to make the first move once you find someone you are interested in.
Top Senior Dating Sites Reviewed