Senior Dating Tips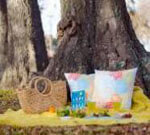 6 First Date Ideas For Seniors
After you have found an interesting person that you would like to meet and get to know more about, the next thing that you should do is schedule a date. The rules of the first dates apply whether you are 16 or 60—your goal for the date should be to have as much fun as possible. To help you out, here are some of the first date ideas for senior dating:
Have fun at a picnic
Just because you are older it doesn't mean that you can't enjoy time outdoors. One of the ways of having fun outdoors is going for a picnic. The cool thing with picnics is that they are casual and at the same time romantic. You should buy a few of your favorite fruits and wine and pack them in a picnic basket. You should then throw in a blanket and you are ready for a great afternoon. You should visit your local park or botanic garden.
To have enough time to talk you should choose a location that is quiet and free of many distractions. To make the date even better you should go to the market with your partner to buy the picnic supplies together. In addition to having more time to talk, you also get to know each other's favorite fruits and wine which helps in the bonding.
Attend a wine tasting event
There are only a few people who don't enjoy wine. Even if you aren't wine experts there is no harm in you visiting a wine tasting event. In addition to the events being affordable, they are also usually calm; therefore, you have ample time to speak with each other. If both of you are wine enthusiasts, the event gives you an opportunity to know more about each other's likes and dislikes.
Engage in a physical activity
It's not unusual to find older citizens who are active in physical activities such as golf, walking or tennis. If this is you, you are on the lucky side as studies show that couples that engage in similar physical activities tend to bond fast thus have a great relationship. Since you already have something in common, you will have something to talk about thus have a great time together.
Attend a charity event
Sometimes you don't have to speak for long hours for you to bond. If there is a charity event happening in the neighborhood there is no harm in you attending it. Experts recommend that you attend such an event if you are nervous about your first date. Since there are many people present, you will be at ease. You will also have people to mingle with in the event the conversation gets strained.
Visit the local market or fair
If you ask many couples, this is the last place that they would consider going for the first date. The presence of plenty of fresh produce gives you plenty of things to talk about which is paramount for your bonding. Since there will be people around you, you won't be very nervous. Just like when attending a charity event, you will have people to interact with in the event your conversation becomes too strained.
Set sail
If you have plenty of money to spend, you can go on a dinner cruise. If you are feeling energetic you can rent canoes, sailboats or even kayaks and have a time of your life. Since the experience will be out of the ordinary you will have a lot to talk about.
There are plenty of first date ideas that you can go with. While on the date, avoid discussing sensitive topics such as your previous relationships.
Top Senior Dating Sites Reviewed