Senior News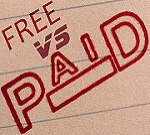 The Truth About Paid & Free Online Senior Dating Sites
With the rapid growth of online senior dating, there are many online dating sites out there for single daters to choose from. This would be somewhat annoying and confusing for those who are new to online dating. Based on the site audience, we can divide online dating sites into general dating sites like Match and the niche dating sites like dating sites only for seniors. But basically, many daters would like to distinguish them as paid & free dating sites. Are paid sites better than those free ones? Why there are still paid sites if there are some free ones? Then what are the benefits of a paid sites? Let's check these out from the following 2 aspects.

Profile/Member Quality on Site:

The very first point we would like to check is the profile/member quality on both sites. Like all common people, senior daters would always like the free sites rather than the paid ones. Thus members on the free dating sites may be more than those on the paid sites. But to think on the contrary, there is no limit on these kind of sites. That's to say, everyone could set up an account on such a dating site no matter he/she is really looking for a relationship, not to say the scammers. The romance scammers, spammers are a real problem on these free dating sites especially those dating sites for seniors. The same issue is much better on those paid sites. One would be much more serious about finding a match by becoming a paid member. Think about it, who would waste their hard earned money on such a site if he/she does not really looking for a match. Though members on free sites would be more than those on paid sites, but the quality of members on those free sites may not compare to those are on a paid sites.

Site Features on Paid and Free Senior Dating Sites:

As we can see that the basic features on an online senior dating sites are basically the same. Though not all other features are the same but the main features which you need such as Search, Email, Wink etc. are all provided on both kinds of sites. All members on a free dating site can enjoy full features on the site. As for the paid sites, actually not everyone are forced to pay or upgrade to be a paid member on these paid sites. They actually open the basic features on site to all members which including the unpaid members. But they offer many advanced features only for paid members which would help those paid members stand out from the rest of the members and also help them make contact with members they are interested in without any limits.

From the above 2 points, you may have an idea of the pros and cons of these two kinds of dating sites. In all, we can see that if you are a serious dater and can actually afford the membership fee, you can then try the paid dating sites which may get better results. At least, you can be a standard member at first and choose to upgrade your membership only when you see someone you are interested in. Anyway, you have the final choice.
Top Senior Dating Sites Reviewed