Senior Dating Tips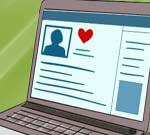 General Guidelines To Refine Your Online Dating Profile
Putting yourself out there on the dating scene can be tough. This is even more apparent for the senior singles that are interested in meeting other senior singles. Writing about oneself is not easy, that is why most profiles on dating sites/apps are poorly written. Your profile doesn't have to be written poorly though. With some refinement and focus your profile could wow those looking at it.
First, be original in your dating profile. You may check some dating profile examples for reference if you don't have any clue about what to write. But don't copy and paste from someone else's dating profile. Others will notice this and will likely just ignore you altogether. If the dating site/app offers sample questions to guide you through creating a dating profile. Using those will usually create a generic sounding profile so use at your own risk. It is much better to use those as a guideline for creating your profile than following them to the letter. Remember, others are interested in knowing a little bit about you before contacting you.
Your profile is the first contact for others on the dating sites/apps. Making your profile stand out and be interesting is key. Try to avoid rambling on about things – keep it concise and leave the other members wondering about things. People love to learn about others and senior singles are no different. If you can ask some questions in your profile, then you could spur contact from others that are interested in knowing the answers. Don't be mysterious – this is not a spy novel.
Some humor can be nice to stumble across in a dating profile. Most senior singles don't know what to write about themselves so they keep it strictly by the book. This usually delivers a very dry profile that is boring and often quite similar to many other senior singles. This is your chance to stand out. Maybe mention a funny moment in life or television shows you enjoy (and why). Avoid using shorthand in your dating profile such as "lol" which stands for "laugh out loud". While you may know what those initials stand for, others reading your profile may not. This could lead to confusion before they ever contact you.
Being honest in your dating profile is another highlight that you want to use to stand out from others. No one likes to be deceived. This is the hardest part of the profile to get across to others that have not met you yet though. Avoid tall tales in your dating profile, keep things grounded and focused. If you cannot prove you did something, then don't mention it in your dating profile.
Discuss yourself a little bit but don't spend the whole profile doing so. Make sure to mention the type of person you are interested in meeting. Discuss activities that you have enjoyed doing, be honest here as you may someday have to follow through on these things.
When creating your dating profile remember to be honest, sincere and mention attributes of the ideal person you want to meet. This is how others will decide to contact you or move onto the next person.
Top Senior Dating Sites Reviewed