Senior News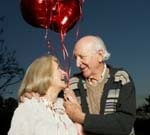 Love and Dating After 50
It's dreadfully annoying when people talk about life after 50 as if it's some kind of mundane sleepwalk, devoid of drama, passion or heat. In fact, that kind of opinion is clearly utter garbage, given the way many people over 50 are truly living things up. Older people are wandering the globe, enjoying the best cuisine, architecture, art and nightlife the world has to offer. They're climbing mountains, going scuba diving, hunting game and running circles around folks many years their junior. And people over 50 are continuing to look for love, or at least dates, in all the interesting places, both offline and online. Whether it's through a senior dating site or by striking up a conversation out on the golf course, older people are actively pursuing their ideal companion.

Dating For Fun

There's no requirement that dating over 50 can only be done by people looking for love. In fact, some of the most fun dates are between older people who aren't looking for something serious, but who would just like to have some fun. After all, when all's said and done, and after many decades of dealing with a wide range of people, there's a greater appreciation for finding someone that you can have a great conversation and a great time with. Being able to find someone who shares your interests or passions can be great because this opens the door to more shared experiences, whether it's going fly fishing on your boat, catching a brainless blockbuster at the cinema, reading through a good book, or some other activity that's close to your heart. When you find a date who loves these kinds of things too, you're able to enjoy those activities with a whole new social dimension. This explains why it's common for senior singles to seek one another out, based on common interests, even if they're not particularly interested in committing to a long term relationship. Finding someone you're compatible with on a senior dating site is just plain fun.

Dating For Love

While there's no shortage of senior singles that are looking for a fun but casual companion, there are also many who are continuing to look for The One. This just makes sense because life can become even more glorious and shiny when you're walking through it hand in hand with the one you love. This kind of longing and passion knows no age limits, and the fire burns just as bright after 50, as it did decades earlier. In fact, in some ways, that love is quite pure and more concentrated in the more senior years, because many of the distractions and hang ups from earlier in life have already fallen away. Over 50, people are no longer usually trying to find themselves. They've already found themselves, and they know who they are and what they want. People have become better individuals after learning from the mistakes and indiscretions of youth, and they're more ready to truly commit and to love. In fact, some of the best and most amazing people around can be found in the profiles on a senior dating site. These are people with awesome stories to tell a rich history of funny, serious and inspiring experiences, and a continuing desire to carve out even more amazing experiences for themselves and their loved ones.

Whether you're dating for fun or love, the internet is making the process of finding a match even quicker and more efficient. If you haven't yet, you owe it to yourself to give senior dating site a try. It takes convenience to a whole other level, so you can spend less time looking and more time dating.
Top Senior Dating Sites Reviewed