Senior Dating Tips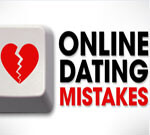 Mistakes That Should Be Avoided When Using An Online Dating Site
According to statisticbrain.com, there are about 54,250,000 single people in the US and out of which there are 49,250,000 people who have ever tried online dating. You can figure out how popular online dating is during these years from the above data. So many people reply on these kind of sites to find a date or their possible matches. It gradually becomes the most important way for singles in any age group for dating. But honestly, not everyone has the success experience on a dating site. Is that only luck to be blamed for not being successful to find the match? Actually, this is not the case. We found that many people tend to ignored some important features on a dating site that might be really helpful. We have concluded some common mistakes that a single user may easily make when using online dating sites.
Mistake 1: Do not get the whole profile finished
We can understand that you may just want to have a try. But there won't be any good result if you don't take the time to even finish your profile. It does not like traditional dating, people read all about you through your profile. Think otherwise, will you be willing to check out those incomplete profiles yourself? Once a member is interested in you, they would like to read more about you through your detailed profile.
Mistake 2: Do not care about the questions for compatible match
As far as we all know that most online dating sites would send you recommend matches on a regular basis. How would you think that they do this whole match work? Yes, they recommend your possible matches based on those questions you answered for "compatible match". If you choose to ignore this part or just fill out the questions casually, you may end up receive possible matches that looks impossible for you. So, take these questions seriously to get more ideal recommendations from the site.
Mistake 3: No or wrong profile photo
As we have emphasized a lot in our dating advice that profile photo is the most important factor for your online dating profile. A profile with photo would attract even 20x more attention than those are not. We have an article talked in detail about the importance of online dating profile photo and how to choose the correct photos. You can refer to it to get ideas to improve your profile.
Mistake 4: Set up the account and just sit there waiting
This is another vital mistake that members especially older singles tend to make. Rely too much on the matching system of a dating site to use it wisely. Some member would just check emails/possible matches sent from the dating site they registered with. They don't even login, let alone using the powerful function that a dating site provides to help them find the ideal matches. Our advice would be "go hunting, don't wait to get found".
Top Senior Dating Sites Reviewed