Senior Dating Tips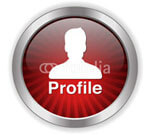 Photo Tips For Online Senior Dating Sites Profiles
As we have talked in our last article that a profile plays quite an important role in online dating. You may have learned a lot through that online dating profile tips article, but that is still not enough. We will guide you with detailed tips and advice about what a good profile is and how to create a good profile in the following coming articles. Now let's start from profile photos.
With the help of the tips in last article, you may already have an idea of the importance of having a great profile as well as the basic ideas of the factors that makes a good profile. Then we will talk about these factors in more details. Among these factors such as profile photo and profile description etc, there is no doubt that profile photo comes to No.1 for its importance to an online dating profile.
From our years of experience communicating with online daters, we can easily get the conclusion that most members requires a profile photo of the member. And many people would only search for "profiles with photos" on the online dating sites they are on. That's to say, you don't actually have the chance to be viewed by other members even if you have a profile online. So here is the advice for your online dating site profile photo.
How many photos do you need for your profile photo?
If you don't have many photo of your own to choose from, you should at least upload one photo of yourself which can be seen clearly. So that the viewers can have an idea of what you look like. But if you got many photos to choose from, then you can feel free to choose those good ones to upload to your photo gallery. The more photos, then more others can know better of you. We will let you know what kind of pictures to choose in the next paragraph.
Which kinds of photos are suitable for profile photo?
Like said above, if you just have one profile photo, that photo should be a clear close photo of yourself which can see your whole body as well as your face. A photo with smile would be a big plus. If you have more photos, then the second one should be a close-up of yourself which focus on your face. Then you can add photos that taken when you are doing one of your hobbies. Photos taken while you are traveling in other places would be just great to add. You can also add photos that were taken on some special moments like your birthday party or so. Photos taken with your family that shows a sweet home. At last, you can also upload a photo of your pets if you have. All these kinds of photos helps other members to know many different aspects of you that you may have described in your profile.
What are you waiting for? Go and choose those suitable photos for your profile now.
Top Senior Dating Sites Reviewed