Senior Dating Tips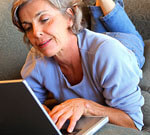 Online Dating Tips For Seniors: Profile Tips For Online Senior Dating Sites
"The United States is projected to age significantly over this period, with 20 percent of its population age 65 and over by 2030." According to the chief of the Population Projections Branch at the census bureau. Among this large amount of senior people, we can see the truth that most people are single. Thus there are thousands and millionaires of over 50 daters that are rushing into the online dating pool looking for that perfect one for them. How can you stand out among such a large number of online daters. Maybe the following profile tips would help you get started easily.
What do you think that is the first important thing for someone to stand out in online dating? Yes, a profile matters most. Single daters find their possible matches by browsing all the profiles on the dating sites for seniors. Nearly all daters search and browse profiles right after they create a profile on the online dating sites. Singles would get the first impression of you through your profile. If she or he would make contact or not depending on the quality of your profile.
IAs we have pointed out above that many daters search and browse others' profiles as soon as they finished the signup process. But many of them ignored their own profile. They just finish the basic signup process without completing a high quality profile. Here are some tips to make your online dating profile stands out.
Always remember to have AT LEAST one profile photo.
Profile photo is really important for both male and female online daters. When members do a search, most people would check the choice "only show profile with photos". Also, we have seen many members wrote in profile "please don't bother to contact if you don't have a profile photo of yourself." That's to say, your profile gets little chance to be viewed by other members even though you have had a profile alive on the online dating sites. You are not actually connected with other singles if you do not upload a photo of yourself to your dating profile. We will talk about photo tips for online dating in the next article.
Write more about yourself and your match
Once they found your profile through search or any other ways. The only way they can know more about you is to read your profile. They know your personality, your hobbies, your favorite activities etc through this part. They can also check if they are the right candidate for you by reading your match section.
Complete your profile and show a little humor in your profile
Many online dating sites has different section for a member to write the detailed information of themselves. The possible matches would be more accurate if you write more about these different parts. The last but not least important thing: show a little humor when writing about your profile. Most people love and respond well to humor.
Hope the above dating tips for senior singles can be some help in getting started on the online dating journey.
Top Senior Dating Sites Reviewed