Reasons for the Rise in Number of Senior Dating App Users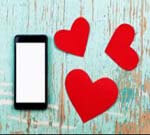 Dating apps for seniors are registering increased number of new users. And this indicates that dating apps for the older crowds are gaining more popularity. A Survey conducted by PEW Research Center in 2015 indicated that 15% of adult Americans were using the online dating platforms. And a significant number comprised of those aged over 60. This is evident on the number of senior dating app subscription which has doubled in the recent past. This leads us to an investigation of why there is an increase in the number of older dating application users.
Here are some of the reasons that are contributing to the increase in the number of dating apps users.
Advanced Technology and Mobile Phone Usage
Because of advanced technology, more applications are available on the mobile phone. And therefore more people have easy access to these applications. Secondly, if you look at how the applications work, you will realize that these dating applications will be advertised on other applications that you are already using. For instance, if you download an application from the Google store, you will see advertisements asking you to download more applications after installing it. This has fuelled the users to download the dating applications. And therefore they are curious to find more on the application and in the process, they become registered users.
Rising Number of Instabilities in the Families
If you study our society today, marriages will break at around the age of fifty years. This is mostly because economic times lead to changes in the lifestyle. People start chasing after new interest, and they are forced to adopt a different lifestyle. This creates an environment that is not conducive for sustaining the marriage. And therefore the couple ends up separating. Now, this couple has lived together for about 30 years, and it becomes hard to live next 10 years without a partner. There is a high likelihood that the person will begin looking for dating platforms and look for partners there.
Busy Lifestyle Hence No Time for Dating
People who are old but still remain single is another group of senior dating site users. Between 30-50 years, a person is very busy trying to accumulate wealth. If some one didn't find a partner in the mid 20's, they are likely to remain single for long. And so they realize when that they need a partner when they are retired. Over 60 dating sites is likely to become the right platform where the person will find a partner.
Looking for More Fun
This is the group of people, who will register on senior dating sites looking for fun because of the fact that their partners cant offer it anymore. In this group, you are likely to find more men than women. Therefore, based on the above technological, social and economic factors, the number of users on apps like Tinder for seniors and other senior dating apps will continue to rise.