Senior Dating Tips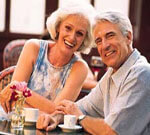 Senior Dating: GO HUNTING, don't wait to get "FOUND"
Sometimes we got questions like "Why am I getting so few winks?" from members on those senior dating sites. Other similar complains like "My profile has just been viewed a few times" "Those who contacted me are not ones I'm interested in". By receiving these kind of questions and complains, we have ever dug further for answers with staffs from those senior dating sites and have found out some issues.
By communicating with counselors and staffs from these senior dating sites, it is not hard to find out that people are always tend to wait to be found. Many people come to online dating site and simply create an online dating profile on the site. And then they just leave everything else to that site. Yes, nearly all dating sites would send out possible matches based on users' basic information they fill in their profiles. But actually there is a much more important feature on these kind of dating sites called "Search".
Advised by staffs from dating websites, the "possible matches" are sent by system of those sites automatically. Those list of matches are matched by the information you fill on the site which may not meet all your requirements. If someone just check out those kind of "possible matches", they may have less chance to find those they may interested in. Actually this is not what dating sites suppose to do either. The search function is the most important part and can help you get what you want.
You can actually search for possible matches based on a lot of different criteria like age, distance, photo, body type and many other items. The more criteria you choose, the more accurate result you will get. This search result would show a list of members that all meet your requirements. You can also check them by different filter, like 'sort by the newest' which means the newly joined member would rank higher. Sort by photos count would rank members with more photos in the front. There are far more filters you can use to check that list and profiles in different angels. With such a powerful feature, the chances of finding an ideal match would increase about maybe 20x.
With above information in mind, we can easily solve the questions and complains at the beginning of the article. If you are really looking, why not show a little bit, but not too much, aggression. Just don't wait to be found. Get what you want, and not just what you can get. Search, sort and send out your interests rather than waiting to be contacted or found. The chance of getting a date would increase a lot if you go 'hunting'.
Top Senior Dating Sites Reviewed