"SeniorPeopleMeet" And "SeniorsMeet" Merged Their Services into "Ourtime"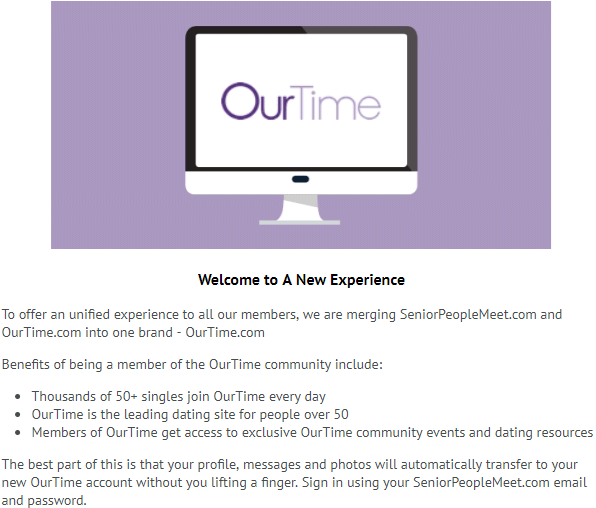 The world of online dating recently saw the change of online senior dating when two popular senior dating sites SeniorPeopleMeet and SeniorsMeet decided to merge their online dating services to another existing site Ourtime.com. Basically, the relationship of the three sites is like Triplets. They are originally owned by the same company People Media. To make it simple in a user's perspective, I will take the following as an example. If you register an account on one of the sites, your profile will be shared automatically throughout all these three sites. Clear enough? While this merger was done simply with a redirect from the two sites to Ourtime, how will this affect consumers and users of the websites? Let's take a look.
About SeniorPeopleMeet
Of the many dating sites that are popular today, SeniorPeopleMeet is one of the few that serve a particular niche in the online dating community, specifically offering online dating services exclusively to people over the age of 50. One of the best senior dating sites out there, SeniorPeopleMeet had a lot going for it when it was in solo-operation. It had a sizeable online community and offered its users a comprehensive yet easy to use interface for communicating with potential matches on the platform. The service was free to sign up for, but like all others in the industry you had to pay a monthly subscription fee if you were to take advantage of all the site had to offer. Overall, the site was a good experience for any who signed up for the service.
About SeniorsMeet
Just like SeniorPeopleMeet, SeniorsMeet also served to create a platform where only those over the age of 50 could interact for online dating. Although the user base of SeniorsMeet wasn't as large as that of SeniorPeopleMeet, it still had a considerably large user base and many impressive features to boast of. It was quite easy to use and navigate for users and was even free to sign up, though one had to pay if one was to get anywhere with dating on this platform.
The pros of the merge
No matter you are opening SeniorPepleMeet or SeniorsMeet website now, you are getting the messages that their sites have been merged into Ourtime for better user experience. There are many benefits that users of both platforms will enjoy because of the merger. For one, being merged to the more popular service Ourtime means users will now have access to a much larger user base (close to 1 million!) which means the chances of finding a potential match in your area just skyrocketed. The merger will also mean an increase in the quality of service both in the user interface of the website and customer service available through email and telephone. Users will be given access to the Ourtime mobile app which will increase the quality of their online dating experience.
The cons of the merge
Although they all have indicated that members can still login on Ourtime with their original account information, this may still make a mess for their users who are in an older age group. Most of the time, if my browser does not remember my password, then I can't either. Furthermore, getting access to a larger community is somewhat of a double-edged sword, since the more people you interact with, the greater risk you have of coming across someone who means harm to you. Scammers and fake IDs are nothing new in the world of online dating, so users need to take extra care now that they're more vulnerable. Be smart and read some safety tips for online senior dating, things can always be worked out. Happy and safe dating!