Senior Dating Tips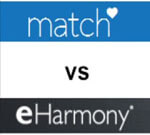 The Best Dating Sites - Match.com VS eHarmony
Being as a single person nowadays, there is little chance that you never use or hear about a dating site. We don't need to mention again and again that how popular online dating is in these couple of years. People in different age group(even people over the age of 70) look for their possible matches through these dating sites. Let's put all the niche dating sites aside, in this article we would like to see which are the best dating sites that cater to all singles no matter what their ages are. And this might be the first question that one would ask when they decide to jump into the dating pool.
To start with, we have to mention these two sites which are the most popular and typical in the online dating industry worldwide - Match.com and eHarmony. These two sites are considered to be the most famous brands, but which site is better? Let's check it out from the following aspects.
Started in 1995, Match has introduced online dating to the whole world. Like mentioned in Match.com review, it now serves singles in different age groups from 24 different countries. They DO have the largest user database among all the dating sites. 5 years after that, eHarmony came into this field. It grows fast with its serious attitude - a dating site for those who are looking for a serious relationship.
We can not miss the sign up process. By comparison, you can easily find out that it is much more simpler to register and place a profile on Match.com than on eHarmony. It only takes some simple steps for you to sign up on Match.com while you have to take about half an hour or more to fill in a really detailed questionnaire on eHarmony. Those questions are claimed to be the results of 35 years experience in clinical psychology and relationship counselor. All the questions are related to which kinds of match you deserve, so you should take them seriously.
On match.com, not only you can browse the possible matches they have sent out on a daily basis, but you can also search for members you might be interested in based on your own criteria. But with eHarmony, there is no search function available. It works all the magic with its powerful and scientific matching system. That's also the shining point that differentiate it from all the other dating sites available.
Membership cost might be a main factor for many people who want to have a try for online dating. Both of the two sites provide different membership packages like one month, 3 months and more. By comparison in total, the cost is higher on eHarmony than on Match.com. We have listed detailed membership cost for both sites in Match.com review and eHarmony review, you may want to have a look for yourself.
Form the above points, we think you have got your own judgment. It is not the question about which is better but which is more suitable for you. If you are busy and looking for your significant other half, then eHarmony might be your best choice. But if you are just looking to have a try, then Match.com would definitely do for you.
Top Senior Dating Sites Reviewed