Senior Dating Tips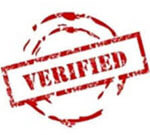 Verification Feature on Senior Dating Sites - Another Way to Fight Fake Profiles
Fake/scammer profiles might be the biggest problem that most people who have ever tried online dating would complain about. And it is not only a problem on senior dating sites over 60 but all kinds of dating sites exist online. It is also an issue that all dating sites would take every effort to fight against.
There are two kinds of fake profiles in general. The first kind, the member may really exist and really look for a match. But they just use photos of other people that look attractive for whatever reasons they have. The most possible result of this kind of fake profiles is what you see is not what you get. See that you were interested in a member when you saw the profile/photo and you finally decided to meet after communication. Then it turned out that the one you were meeting with is totally not who the profile showed to be. Would that make you feel awkward or even pissed off?
There is yet another kind of fake profiles which makes the worse effect. These are so called scammer profiles. They usually pretend to be looking for their match just like any other members on the site. They use fake identities, photos that may either totally fake or stolen from other members. Their aim is usually trying to scam people for their money. This was the so called romance scam.
All dating sites hate these sorts of profiles and they all do a lot to eliminate these users as early as possible. As far as we know that their site system can automatically kill some of these problem profiles. Some sites like SeniorMatch also do manually censor for all their profiles to further kick out profiles with issue. Besides all these efforts that dating sites have made, there is still one that tend to be ignored - verification feature. Let's check it out how you can take advantage of this feature when you are using an online dating site for seniors.
We call it "verification" feature here in general but it actually has different names on different dating sites. And the verification request is also somewhat different based on different platforms. For example, the most serious dating site eHarmony has this verification feature and named it RelyID. With this service, you can self-verify your name, city of residence and age to show your matches that you are who you say you are. Once your ID is verified, your match would see a RelyID next to your name whenever they view your profile.
Most sites do it in a similar way. Once your photo/identity gets verified, you get a corresponding badge displayed on your profile that other members can see it clearly. With this badge, you know who are communicating with is someone who they say they are. And obviously, the badge can show that member is really serious on the site about looking for the match. These members may get more attention from other members. So why not try getting the badge on your profile to increase your chance as well? Just get to the page and follow their instructions to fill in or send out information the site needed to verify your identity then you just need to wait. As expressed previously that once your ID got verified successfully, you can then see the badge appears on your profile.
It is much more comfortable and relax to communicating with verified members. At least you don't worry to meet the one who is actually not who he/she is as shown on the profile. In all, verification feature is absolutely an useful feature that would help for all the serious daters. If you have not yet tried this feature on a dating site, you may want to check it out for yourself now. You can also learn more dating tips on our site.
Top Senior Dating Sites Reviewed