Black People Meet 101: BlackPeopleMeet Login Page and Reviews
BlackPeopleMeet is another People Media dating site that focuses mainly on meeting other black singles in your local area. People Media is a Texas-based company that owns many famous niche dating sites such as Ourtime for over 50 dating. And BlackPeopleMeet is one of many that they launched in 2002. Ever since then, it becomes the platform for many African-Americans to look for love, relationship, friendship and dates. Although they focus on black dating, people of all races and ethnicity can join their network.
More about BlackPeopleMeet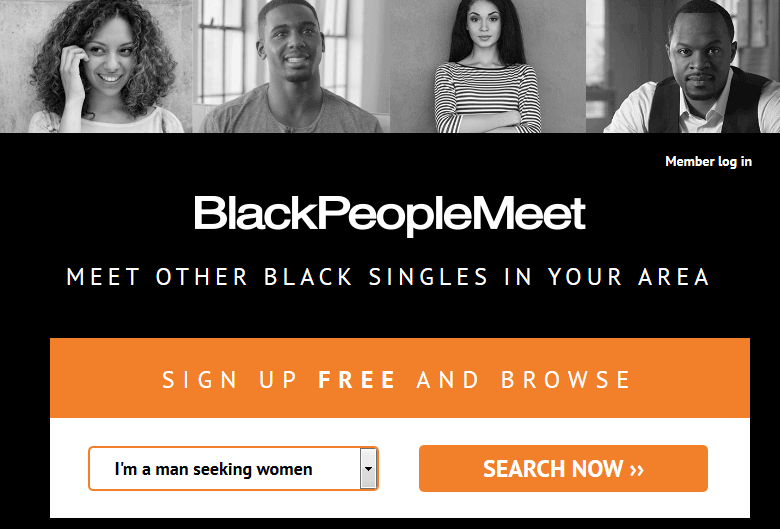 By far, BlackPeopleMeet is the largest black dating site in the US that attracts about 5.7 million unique visits per month. And there are about 5 million active members in their database. Speaking of the gender ratio, it is on a relatively even level with 47% male and 53% female. With such a good ratio, you will have greater chance to find what you want easily.
Signup is an easy process which takes no more than 2 minutes' work and it is free. There are 5 steps for signup, and it requires only your email address, birthday and zip code. You can fill more about you in the coming part or you can skip it for now and start your search directly. But skipping it is not recommended especially if you are looking for serious relationship. There will be less chance for you to find a date if you have no detailed introduction about yourself. Believe me, no one likes to contact a member with a blank profile. And most people would judge profiles with little content as fake or low quality profile. Why would they bother to contact if they know nothing about you?
Don't forget your profile photos; you can upload up to 30 photos on your profile on BlackPeopleMeet. Profile photos may be the most important part that attracts other members' attention. So be smart and choose the best ones that you have. If you don't have any idea about which ones to choose, you may check some profile photo tips to help. The site also supports the feature to let users import their photos from Facebook. Once your profile is complete, you are ready to move on with your dating journey.
BlackPeopleMeet Login
But before we explore more about the site, we would like to talk about BlackPeopleMeet login. We do notice that many people would search for "BlackPeopleMeet login" when they come back to use the site. No matter what your situations are, we are here to help with your login issue. To login back to BlackPeopleMeet, you may need to go to their login page. And there are two ways to get there.
1) Go to BlackPeopleMeet homepage, and then click on "Member log in" in the middle right corner of the homepage. Then you will be on the login page.
2) Directly go to their login page by typing in your brewer: www.blackpeoplemeet.com/v3/login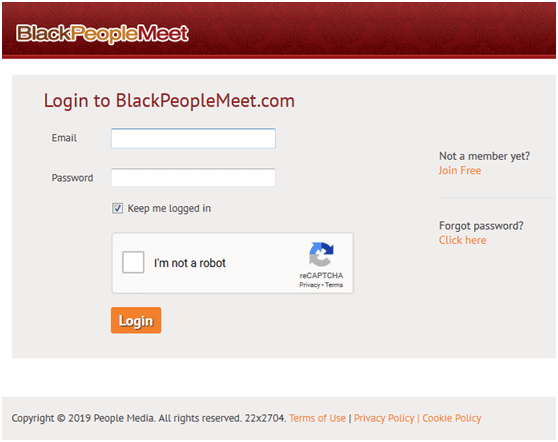 Once you are on the login page, input your correct login information on that page. You can check the box before "keep me logged in" if you are using your private computer or device. This way, you don't need to input the login information every time when you need to use the site. After you have logged in successfully, you can move on to explore the site and search for your match now.
More BlackPeopleMeet Reviews
With a free membership on the site, you can view all profiles of other members without any issue. And you can also use the free search options to check active members on the site. To break the ice, members can send flirts and favorite other profiles for free.
But same as most dating sites, most of the key features are not available with basic free membership. They have more advanced features available for premium members to connect with other members. For subscribed members, they can search for possible matches by many detailed criteria like age, zip code, height, ethnicity, religion, zodiac and more. Tokens on the site can be used to send virtual gifts, promote yourself on the site and gain access to enhancing matching features. To communicate with other members you are interested in by instant messages on the site, you must be a subscribed member. Other than these main features, they also provide some small but helpful features to help making connection between interested members.
Membship Cost
They offer monthly membership package as well as tokens for some special features.
Monthly membership package:
1 Month:&nbsp&nbsp&nbsp&nbsp&nbsp&nbsp&nbsp&nbsp&nbsp $16.75 / Month&nbsp&nbsp&nbsp&nbsp&nbsp&nbsp&nbsp&nbsp&nbsp Total: $16.75
3 Months:&nbsp&nbsp&nbsp&nbsp&nbsp&nbsp&nbsp&nbsp&nbsp $13.95 / Month&nbsp&nbsp&nbsp&nbsp&nbsp&nbsp&nbsp&nbsp&nbsp Total: $41.85
6 Months:&nbsp&nbsp&nbsp&nbsp&nbsp&nbsp&nbsp&nbsp&nbsp $11.95 / Month&nbsp&nbsp&nbsp&nbsp&nbsp&nbsp&nbsp&nbsp&nbsp Total: $71.70
Tokens:
25 Credits:&nbsp&nbsp&nbsp&nbsp&nbsp&nbsp&nbsp&nbsp&nbsp $0.04 / Credit&nbsp&nbsp&nbsp&nbsp&nbsp&nbsp&nbsp&nbsp&nbsp Total: $0.99
110 Credits:&nbsp&nbsp&nbsp&nbsp&nbsp&nbsp&nbsp&nbsp&nbsp $0.04 / Credit&nbsp&nbsp&nbsp&nbsp&nbsp&nbsp&nbsp&nbsp&nbsp Total: $3.99
280 Credits:&nbsp&nbsp&nbsp&nbsp&nbsp&nbsp&nbsp&nbsp&nbsp $0.04 / Credit&nbsp&nbsp&nbsp&nbsp&nbsp&nbsp&nbsp&nbsp&nbsp Total: $9.99