SeniorPeopleMeet Login, Are You Searching For That?
I did a check on Google Adwords search volume for the query "seniorpeoplemeet login" and I am surprised to know how many people are actually searching for that every month. According to Google Adwords, there is an average search volume about 10k to 100k each month. As we all know that SeniorPeopleMeet was a famous dating site that focuses on providing dating services to senior people who are over 50 and still single. Is that to say, there are so many senior people who are trying online dating just lost their way since they have trouble with even login? Now we are here to help check and solve the issue.
Why do people search for that?
There must be reasons that why so many people are searching for "seniorpeoplemeet login". People who search for that are mainly senior single people. We know that not all of us seniors are tech savvy. Online dating is kind of new things for some of us. It may take us quite some time to learn about how to use a dating site online. If we do not let our browser to remember the password after the first time signup on SeniorPeopleMeet, we have to login each time we want to use the site. For us seniors, it is not a easy to remember or type domain name. Not like the other senior dating site SeniorMatch or so. Thus many seniors may search for the login page directly rather than going to the homepage to find the login area.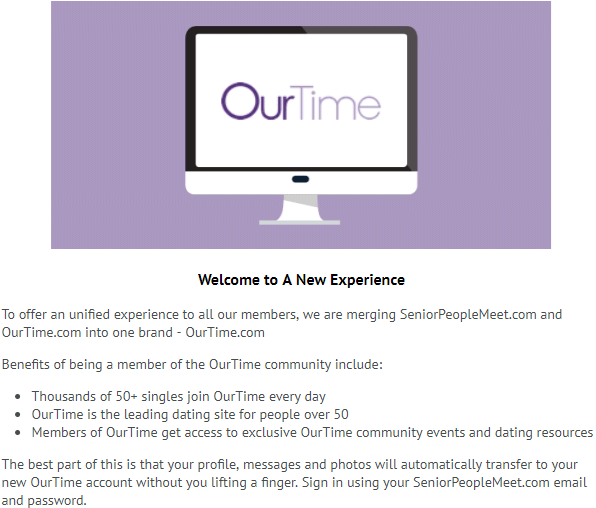 Well, this is not the only reason. We have reported in one of our previous post that SeniorPeopleMeet had already been merged to ourtime. Now when people visit SeniorPeopleMeet, you won't be able to see the previous homepage, not to say the login area. If you didn't read the instruction on that page carefully, you may turn to google to search for where you can login to your SeniorPeopleMeet account. Don't worry, we will show you where you can login to your original account.
Where to login your SeniorPeopleMeet account?
Let's get to the point. SeniorPeopleMeet and Ourtime are originally owned by the same company – PeopleMedia. Now they merged the two sites together to ourtime community. What happened to your previous account on SeniorPeopleMeet? Good news is that it is still working and they automatically transfer your account and all the information to ourtime. That's to say, you just need to login your SeniorPeopleMeet account on ourtime with your original account information. There is no need to signup a new account. You can check the following screenshot for reference of the login area of ourtime.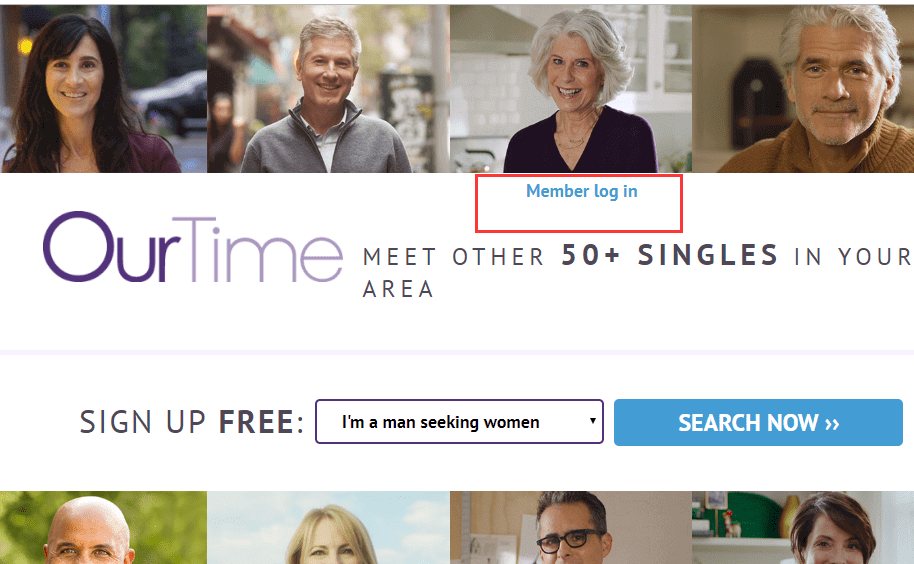 You just need to click on that to get to the login page. Then enter your previous SeniorPeopleMeet registration email and password that would be all set. If you still have any questions or issues, we would like to hear from you. We would try to check into the issues you meet and see if our work can help more people in online dating for seniors.